Natan Schleider Gallery, L.L.C. is pleased to offer museum quality restoration services of any antiques of the surgical and medical variety. Antique and Antiquarian Book restoration, rebinding, and repair are also services we can mediate from our Manhattan, New York City (NYC) based gallery. Below are some examples of the work done. Please contact us if you have any antique medical instruments, surgical antiques, and/or antiquarian books you wish to have restored. Ultimately, we will need images and often the item itself to provide a specific price quote and estimated time of restoration. We encourage you to shop around as we know few if any companies that specialize in restoration of antique medical instruments. Prices are expensive and quoted below for each project to give you a ballpark idea but in our opinion, worth it for the collectibles we cherish and wish to preserve for ourselves, our families, or history itself. The benefits of restoration may salvage certain rare and valuable antiques that might be lost to history absent our meticulous and thorough work and wood, metal, and paper tend to rot and tarnish and rust over the centuries unless you have kept them hermetically sealed or very carefully preserved.

Of course the cost of the restoration may exceed the fair market value of the item you wish to restore. In some cases below, this was true, but in our hearts, we could not see these beautiful and important historical antiques rot on the shelves with the sands of time…

1. Mid 1800s Antique Trepination Set: This medium sized antique neurosurgical trepination set was missing the brass plate at the top of the box (called a cartouche), missing the velvet lined divider separating the upper interior part of the set from the lower, missing a key for an operational lock, and needed rejuvination of the wooden box exterior and brass hardware. All this was performed without damaging the integrity or authenticity of the antique by our professional restorers with whom we contract. Total Cost of Restoration $2000 USD. Total Time to Restore=2-4 weeks.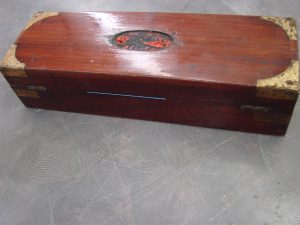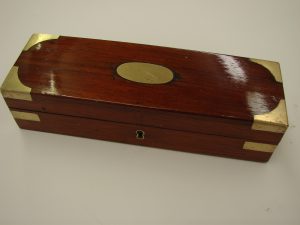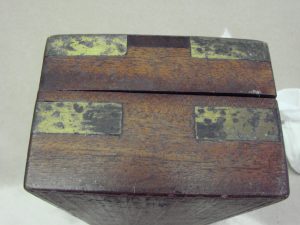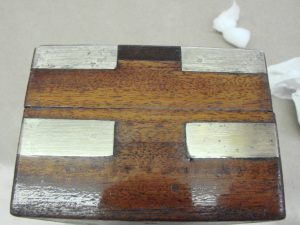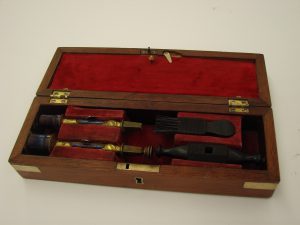 2. 19th Century British Surgical Set Before and After Restoration